Are desktop applications for work going the way of the Dodo bird? Well, not quite. However, as individuals are increasingly reliant on mobile technology for personal use, many employers are seizing the opportunity to increase employee productivity using mobile apps. Mobile apps are simpler to use and travel well. Mobile devices are an integral part of our lives and extending their use into the workplace makes ample sense.
In a recent blog, PostBeyond points out that there are now over five generations in the workforce, which makes matching their preferences for communication a challenge. "You might have employees on-site seeing bulletin boards and you might have employees who work remotely – and everyone in between. How do you make sure that they all receive the same message and feel included?" Indeed this is one of the key challenges of managing today's workforce and mobile technology lends itself very well to communicating, engaging, and training today's employee.
Whether it is an app with built-in machine learning algorithms to help companies prevent workplace injuries, or an app that promotes performance and learning through gamification, mobile apps are increasingly stepping in to take over for their desktop brethren.
Digital Disruption
We recently surveyed full-time employees in the US on their use of mobile applications in the workplace. Although desktop applications continue to dominate the workplace, with 46% predominantly using them, mobile workplace apps are at the forefront of digital change.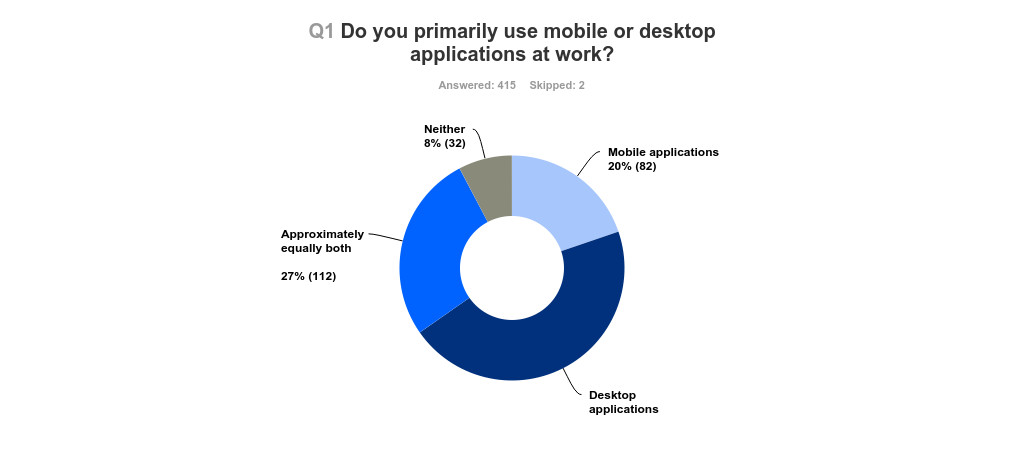 Highlights of the workplace poll include:
1 in 5 employees primarily use mobile apps in their place of work, and of these workers, over 90% claim mobile app use will positively impact their business in the future.
77% of respondents say they have one or more work-related app on their mobile device.
Primary mobile users are much more likely to believe their companies are at the forefront of digital technology vs. primary desktop users (45% vs. 19%). However, they are also much more likely to believe they are under threat from competitive digital disruption (77% vs. 40%).
Workplace mobile applications clearly can be a boon to productivity and a competitive advantage for companies. The fact that desktop applications still dominate the majority of workplaces presents a tremendous growth opportunity for workplace mobile application development and adoption.
To learn more subscribe to Golfdale Insights.